Bushmaster M17s Modifications Customer Pictures
Owner: TIM W.- This M17s was modified by K&M Aerospace, but the painting and all the accessories were added by Tim. This was a modified custom design as Tim wanted the slot and hole configuration, but with some of them removed.
Shown wearing:
Troy HK style front flip up sight
Troy rear flip up sight
Troy Modular Combat Grip (in short configuration)
Trijicon ACOG Reflex sight
GG&G Accucam toggle mount
MagPul 30rd PMAG OD green polymer mags
Midwest Ind. QD push button rail mounted sling swivel
Bushmaster ACR flash hider w/ratchet teeth for suppressor
VLTOR bipod legs
---
Owner: Rick T. My M17s originally modified by KKF (horizontal slots, painted OD green, charging handle top & bottom rail) – fixed to perfection by K&M!
Shown wearing:
Barrel shortened by K&M
"Hole" lightening by K&M
Alumahyde II Coyote Tan by K&M – fixed the botched KKF painting
Bottom rail by K&M – painted by me, hence the paint wear already
Cheek Rest by K&M
Bushnell MP Trophy Red Dot Scope
MagPul – MBUS flip up front & rear sights
MagPul AFG front grip
Rainier Arms Xtreme Tactical Compensator XTC
A good gunsmith is hard to find, a good gunsmith who keeps you posted on everything that is happening with your firearm and that has a fast turnaround time is even rarer. Outstanding communication, customer service and of course gunsmith work. I was so impressed with the service that I sent out my SPR upper to K&M for threading and muzzle brake installation. Highly recommended for any custom work!
---
Owner: Frank S.
Shown wearing:
Note that the firearm is a 1st generation M17S that is wearing:
YHM Phantom 5.56mm 5C2 Comp/Flash Suppressor
Falcon Industries Rail-Mount Sling Swivel (A2 Style Loop)
MagPul Angled Fore Grip 2
MagPul front and rear BUIS (1st generation)
Aimpoint Micro T1 on 1.42" Larue QD mount for absolute co-witness
---
Owner: Richard S.
Shown wearing:
C-MORE Tactical Railway Red Dot Sight
MagPul MBUS Front and Rear Back-up Sights
Midwest Industries Front Sling Adapter
Command Arms Short Vertical Grip
YHM Phantom Compensator/Flash Hider
Ken (K&M Aerospace) exceeded my expectations at every stage of this project. He was very receptive and responsive to working with me on customizing the mods to meet my requirements and I was VERY pleased with the price quote that I received for the work that I wanted done. The turn-around time was extremely quick, especially considering it took a week just for the paint to dry. The icing on the cake was when I got the receiver back and saw the quality of Ken's work. I doubt there is anybody out there that can do better quality work on an M17S. If you want the best modifications done to your M17S, K&M Aerospace is the only choice.
Added note after Richard purchased the trigger mod: " I got the trigger mod installed and as I expected it makes a big improvement. The trigger pull is lighter as advertised but it is also smoother, more consistent and less gritty than before. I especially like the washers (I needed both of them on my gun) as it now makes the trigger rock solid.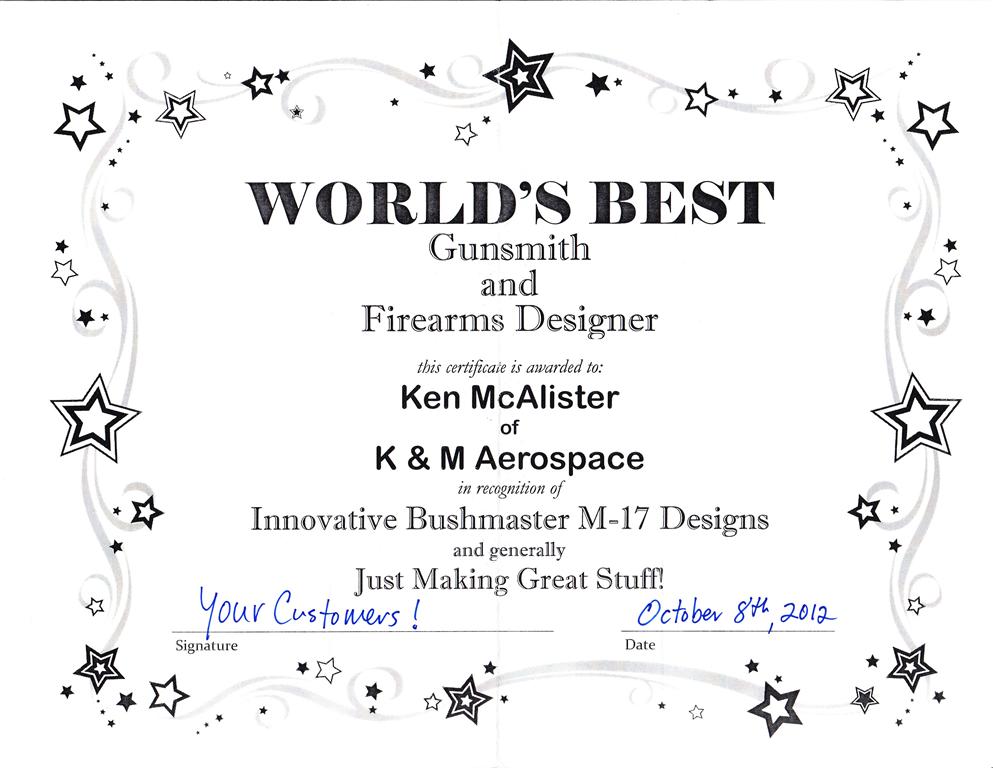 ---