Bushmaster M17s Other Items
Brass Deflector
Brass Deflector $25
Made out of high strength Delrin this will aid in deflecting the brass forward and will help from deforming the rear of the ejection port. it will also help in not deforming the brass as much if you reload. Comes with (2) 10-32 screws for mounting.

---
Firing Pin
There are 2 generations of firing pins that I know of. Both are pictured below. The only difference is one of the diameters, it is the one just below the largest diameter. The larger diameter one is the Gen 1 and the smaller is the gen 2. I made them to the gen 2 as they will work in both configurations. The largest diameter is the locating surface so it does not matter that the new one is smaller.
| | |
| --- | --- |
| Chromoly Steel $35 | Titanium $65 |
| Chromoly steel that has been machined, hardened and black oxide coated for corrosion resistance. This is a direct replacement for your worn out factory firing pin. | Upgrade to a lighter faster firing pin. This is made out of medical grade titanium, so it is one of the strongest, lightest and corrosion resistant type of titanium. |
| | |
To install: Simply drive the 3/32 roll pin almost all the way out of the bolt carrier group. The Roll pin is located at the very back of the carrier group. The firing pin will will pull out of the back of the carrier group. You tube video will follow soon!
---
Bolt Buffer
| | |
| --- | --- |
| Bolt Buffer $5 | Bolt Buffer 3 pk $12 |
| Lost or damaged buffer? This is a direct replacement that will out perform the stock one. You want to make sure you do not shoot your rifle without one of these in place. | Don't want just one? Here is a 3 pack so you can make sure you always have a replacement. |
| | |
Watch install instructions here.
---
Spanner Wrench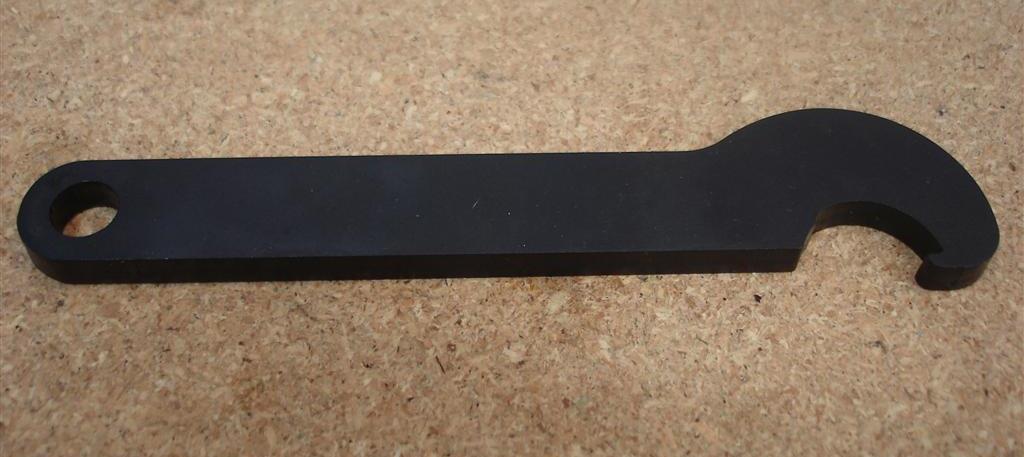 Spanner Wrench $25
This is a spanner wrench that is made perfect to fit the barrel nuts on the M17s. No more pliers to mark the nut when you need to remove the barrel.
---
Straight Front Cap
Straight Front Cap $45
This Billet front cap requires that the upper is cut straight and either the barrel shortened or an extension added to the barrel sleeve.
---
Customer Supplied Sling Lug Install
Customer Supplied Sling Lug Install $20
When you are having a full Mod done, you can send me a sling attachment of your choice and I will install it for you. Or contact me an I can buy it and install it. You will pay the cost of the part plus instillation.
---
USGI Mag Painting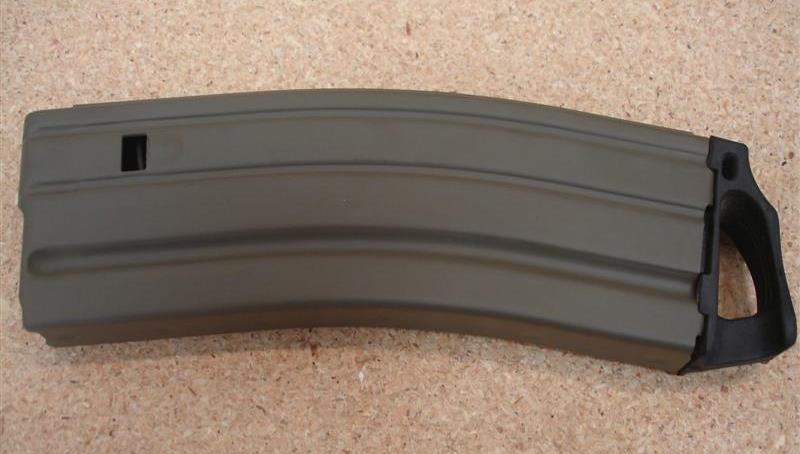 Customer Supplied USGI Mag Painted $10
I will take your metal mag and paint it at the same time I paint your upper receiver so the color will match. You must send it to me fully disassembled and it must fit loose in the mag well as to still drop free once it is painted.
---